REDUCE YOUR RISK AND GET MORE FROM YOUR IT INVESTMENT
---
Protect information assets
Is your IP and data secure?
Cybersecurity protection
How exposed are
you to attacks?
Disaster recovery
How resilient are you to a disaster?

IT Governance
Do you have appropriate policies and processes?

Staff Capability
Are people making
best use of your IT tools?

Rather than simply reviewing what you've got, we uncover what you should be doing with IT to improve
your business.
Scalable depending on your needs, choose from just a simple review, to the starting point for a strategic IT plan
in a comprehensive 20 page report. The review includes pricing indications, so you know the cost implications of
identifed issues.
Working through more than 150 different elements, our process ensures your output report focuses on the areas
relevant to your business strategy.
We focus on 'why'… not 'what'.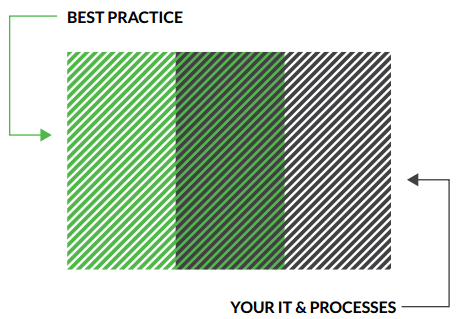 A detailed blueprint for your future
---
We help you identify the IT priorities for your organisation.  These are the things you need to focus on to achieve your strategic and short term goals.
No stone is left unturned.  Our comprehensive process ensures that you consider every aspect of your IT.
The Best Practice Guide gives  senior executives and Directors a crystal clear view of how they are managing the risks and benefits of IT for their organisation.
Find out more